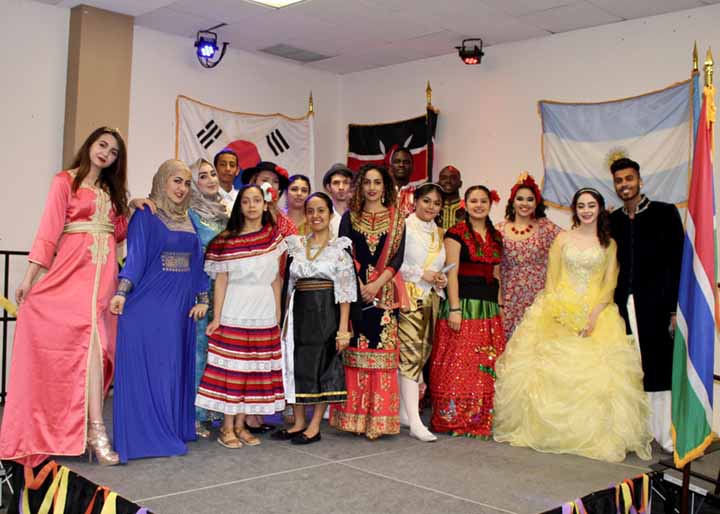 The Diversity Club is a club open to all students attending Reading Area Community College.
The Diversity Club's mission is to welcome and celebrate the culture of all individuals on the RACC campus and beyond. In addition, through education of the entire RACC community, the club will promote respect and cultural competency/proficiency of all individuals.
What We Do:
Foster connections among all students of diverse backgrounds
Help new international students feel welcome and supported
Host the Annual International Festival
Host guest speakers
Participate in community service
Visit nearby attractions
The International Festival
March 27, 2019 from 11 AM - 2 PM
General Club Meetings:
Meeting times for Spring 2019: 1st and 3rd Wednesdays of each month at 1:30 PM in the SUB, room Z110
Our meetings are half business, half fun. It's a time for sharing your culture or viewpoint on our theme:
January 30th: Candy for Festival Committees
February 6th: Fun with Faith - try on a hijab or a tika or tarrot card
February 20th: Fun with Food - taste samples
March 6th: Fun with Games - share your favorite game
March 20th: Fun with Fashion - try on outfits from other cultures
March 27th: Dance Festival 11AM - 2PM STTC
April 3rd: Fun with Fools - share jokes, riddles and stories
April 17th: End of Semester Celebration!
Contact any of our officers for details.
Officers

| Office | Name |
| --- | --- |
| President | Edgar Barreiro |
| Vice-President | Kathy Mulholland |
| Secretary | Victor Moran |
| Treasurer | Victor Moran |
| Community Service Coordinator | Lisa Ammon |
Advisor: Carla Mannix
610-372-4721 ext. 4211