PSECU Office Hours
Berks Hall Cafeteria
Phone: 717-585-4864

| Day | Time |
| --- | --- |
| Monday - Friday | 9:00AM - 4:00PM |
| Saturday - Sunday | Closed |
Your RACC PSECU Financial Education Center is also available for virtual office hours by phone or through Zoom. Please contact Maholy Lahoz at mlahoz@psecu.com to set up an appointment. Visit psecu.com/students to get started.
Please do not include personal information (such as your bank account number or Social Security number) in your email message.
Up to $300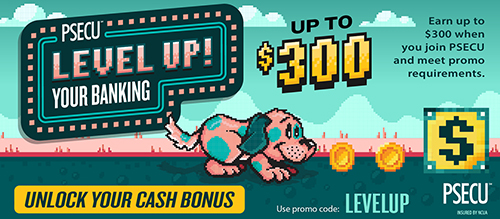 We offer better banking and tons of member-only perks. Plus, you can earn up to $300* when you join PSECU and meet promo requirements.
Level 1
Become a PSECU member using promo code: LEVELUP and add a free checking account with debit card.
Log into digital banking (online or mobile).
Activate your debit card.
(Must be completed in the first 30 days of establishing your membership.)
Level 2
Establish one or more qualifying payroll direct deposits that together total $200 per calendar month.
(Must be completed within 90 days of establishing your membership.)
Level 3
Maintain the qualifying payroll direct deposit(s) for 90 days after initial deposit.
Visit LEVELUP300 to apply and see rules and bonus details.
Banking with PSECU
College can be difficult. Banking doesn't have to be.
PSECU is here to help you navigate new financial decisions and milestones. Whether you're on or off campus, we offer low- or no- fee products and services that help keep your money where it belongs - with you.
Founded in 1934, PSECU was created by 22 ordinary people who made an extraordinary commitment to each other - to create a financial institution where the customer comes first.
Today, we're a full-service credit union serving more than 450,000 members.
We're also member-owned and not-for-profit. That means some of our earnings go back to you in the form of dividends, perks, and innovative services.
Benefits
When you join PSECU, you enjoy benefits such as:
A network of surcharge-free ATMs (on and off campus)
ATM surcharge rebates for non-network ATMS (Up to $20/month with direct deposit, and up to $8/month without)
Free checking accounts with no monthly maintenance fees
Cash rewards for using your debit card
Mobile deposit & payment (Apple Pay®, Google Pay®, and Samsung Pay™)
Person-to-person money transfers within the U.S.
Online bill payer service
24/7 digital banking, including text and email alerts
From graduation to your first paycheck and beyond - PSECU is your financial partner for life.
Additional Information
Financial Education
PSECU offers resources for students both on and off campus.
In addition to our in-person workshops, we have a large library of online resources. Our WalletWorks page is home to videos, articles, and worksheets designed to help you learn the basics of money management and improve your skills.
Additionally, our blog offers financial tips for every stage in life, so whether you're an undergrad, grad student, or nontraditional student, there's something here for you – from information about PSECU products and services and answers to common money questions to tricks for saving money as a college student.
Ready to get started? Visit psecu.com/students to learn how you can keep more of your money where it belongs - with you.
Insured by NCUA.