Health Professions: Histotechnician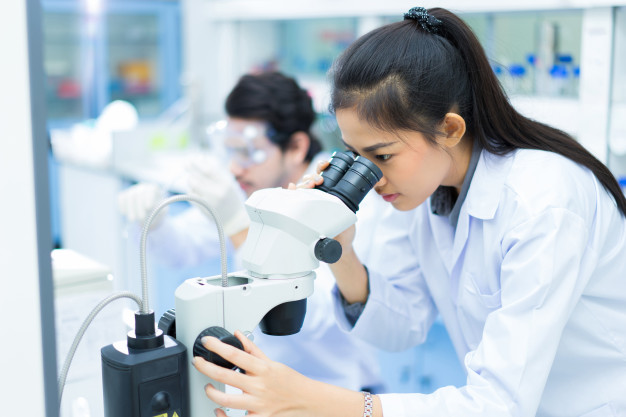 What's Your Goal?
Are you looking for a rewarding career as a vital part of a healthcare team providing clinical information for detection, diagnosis and treatment of disease? Abundant opportunities await you when you complete RACC's Associate in Applied Science Histotechnician Program!
We Help You Get There With...
Quality online instruction to prepare you for your clinical training
Comprehensive preparation to achieve mastery of competencies required in the field
Instruction by faculty who currently work in the field
Hands-on practicum experiences
Program Description
The A.A.S. degree program in Histotechnology is designed to provide quality instruction to develop highly skilled and ethical histologic technology providers. Students will obtain the necessary academic and technical skills in all areas of the histology laboratory. Technical skills will include training to process body tissues for microscopic examination, frozen section assistance, embedding techniques, microtomy, and special staining techniques.
What You Will Learn
Upon completion from the Histotechnician Program, graduates will:
Demonstrate the knowledge and skills to perform current laboratory procedures as entry-level histotechnicians.
Follow approved safety procedures and standards of practice when working in the histology laboratory.
Recognize unexpected results and instrument malfunctions and take appropriate actions.
Exhibit professional and ethical behaviors consistent with those of a healthcare professional.
Career Outlook
The demand for Histotechnicians is huge. It is a fast-growing field with many new advances in biotechnology creating new challenges and job opportunities.
Transfer Opportunities
Opportunities exist at other institutions for students looking to pursue a bachelor's degree in a healthcare science.
Clinical Affiliates
Clinical practicums are the backbone of any Histotechnician program. Clinical practice allows the student to use classroom learning in a real-world setting. The RACC Histotechnician program utilizes a variety of institutions in Berks and surrounding counties. Students are assigned to a clinical affiliate to gain experience in all aspects of the histology lab.
Admission Requirements
Be a graduate of an approved secondary school or hold a high school equivalency diploma (GED).
Complete and submit the RACC Application for Admission.
Take RACC placement tests in reading, writing, and mathematics, which may increase the number of courses required to complete the degree if not placed into college-level English Composition or mathematics.
Every student must meet with the Histotechnician Program Director or Education Coordinator to review the clinical selective admission process and review all program policies.
Want To Learn More?
Contact Donna Chuddley, Education Coordinator at dchuddley@racc.edu or call 610-372-4721 ext. 4235, or Program Director, Leah DelCollo, MLS (ASCP) at ldelcollo@racc.edu or call 610-372-4721 ext. 5428. Office location is Weitz Hall, Room 411.
Contact an enrollment specialist at admissions@racc.edu, 610-607-6224 or 800-626-1665.
Stop by the Welcome Center in the Berks Hall lobby.
Get financial aid help at financialaid@racc.edu or 610-607-6225.
The Histotechnician Program is seeking accreditation by the National Accrediting Agency for Clinical Laboratory Science, 5600 North River Road, Suite 720, Rosemont, IL, 60018. Phone: 773.714.8880.The HT Program is currently in "Serious Applicant Status".
---
Employment Trends and Salaries