Health Professions: Respiratory Care
What's Your Goal?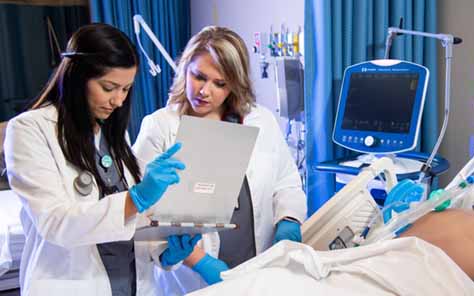 If your goal is to work in the fast-paced, challenging specialization of Respiratory Care as a licensed, Registered Respiratory Therapist, then completion of RACC's respiratory care Associate in Applied Science Degree is an excellent choice to achieve your career goal.
We Help You Get There With...
Clinical cohort of only 24 students
12 Clinical Affiliates within a five-county region
State-of-the-art classroom and lab technologies
Student scholarships, supported by the Berks TB Society
Program Description
The AAS program in Respiratory Care prepares graduates to work in hospitals, rehabilitation and skilled nursing facilities, patients' homes, and physician offices to assess and treat patients with breathing disorders. Respiratory Care students participate in diverse classroom, laboratory, and clinical experiences in the Berks, Chester, Lancaster, Lebanon and Lehigh counties. The laboratory portion prepares students for hands-on work in real-world patient care.
What You Will Learn
The fundamental knowledge to pass NBRC credentialing exams
The skills to provide treatment, assessment, diagnostic evaluation, and care to patients with cardiac and pulmonary pathologies
The ability to manage invasive and noninvasive ventilatory support for neonates, children, and adults
Career Outlook
The need for Respiratory Therapists is estimated to grow at an annual rate of 28% across the United States. View the Occupational Handbook for Respiratory Therapists.
Transfer Opportunities
Alvernia University (Bachelor of Science in Healthcare Science) with all credits earned as part of the AAS in Respiratory Care transferring into Alvernia
Boise State University Online Program: The 75-credit curriculum satisfies all professional level curricula (69 credits transfer)
University of Cincinnati Online Program (70 credits transfer)
Clinical Affiliates
Excellent clinical practice rotations are the backbone of any Respiratory Care program. Clinical practice allows the student to use classroom learning in a "real life" setting. The RACC Respiratory Care program utilizes a variety of institutions in Berks, Lancaster, Lehigh, and Montgomery counties. Students rotate through these hospitals in all terms to gain experience in all aspects of respiratory care. Clinical affiliates include:
Admission Requirements
Be a graduate of an approved secondary school or hold a high school equivalency diploma (GED).
Complete and submit the RACC Application for Admission.
Take RACC placement tests in reading, writing, and mathematics, which may increase the number of courses required to complete the degree, or transfer coursework in English Composition and Math at another college into RACC.
Follow the Selective Admissions Process for the Respiratory Care Program as listed on the Programs website and in the college catalog.
Every student must meet with the Respiratory Care Program Director and submit a Letter of Intent to the Program Director by April 15 prior to the intended Fall clinical (RES) courses.
Want To Learn More?
Contact an enrollment specialist at admissions@racc.edu, 610.607.6224 or 800.626.1665.
Stop by the Welcome Center in the Berks Hall lobby.
Get financial aid help at financialaid@racc.edu or 610.607.6225.
The Reading Area Community College Respiratory Care Program (#200387) is accredited by the Commission on Accreditation for Respiratory Care (CoARC) (www.coarc.com).  
CoARC accredits respiratory therapy education programs in the United States. To achieve this end, it utilizes an 'outcomes based' process. Programmatic outcomes are performance indicators that reflect the extent to which the educational goals of the program are achieved and by which program effectiveness is documented. Please refer to CoARC's webpage for additional information: https://coarc.com/students/programmatic-outcomes-data/.