Health Professions: Practical Nursing
What's Your Goal?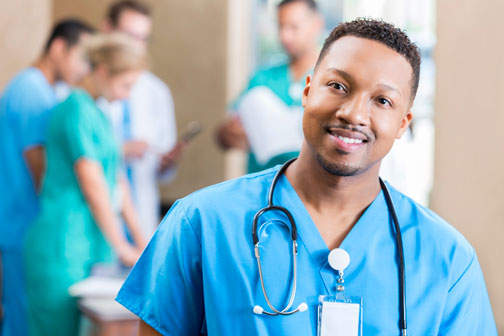 If your goal is to make a difference in the lives of others by promoting health, preventing disease, and helping to ensure healthier communities, then the Practical Nurse Program is a great place to start.
We Help You Get There With...
Highly qualified faculty who are responsive to the educational needs of the students
Clinical rotations at multiple health care agencies that provide quality learning experiences
Access to several resources to facilitate learning such as the electronic Kaplan Integrated Teaching System, computer labs, simulated clinical practice, various observation activities, counseling and tutoring services
Professional development planning toward an associate and a baccalaureate education in nursing
Pre-employment guidance and assistance with resume and job interview preparation
Program Description
The Practical Nurse Program is a one year, full-time day certification program. LPNs practice under the supervision of a Registered Nurse, licensed physician or licensed dentist. The Practical Nurse Program prepares the student to provide direct nursing care with a holistic approach. Career options for Licensed Practical Nurses include positions in long-term care and assisted living facilities, doctors offices, schools, industry, home health, rehabilitation, insurance and pharmaceutical companies. Coursework will aid students in preparing to take the State Board of Nursing National Council Licensing Exam for Practical Nurses (NCLEX-PN).
What You Will Learn
Pediatric and Obstetric - Practical Nursing Care
Adult Medical/Surgical Practical Nursing Care
Geriatric Practical Nursing Care
Medication Administration
Nursing Skills
Career Outlook
Flexible schedules can often be arranged to fit your lifestyle. Salary range from $40,000 - $50,000.
Opportunities for advancement can be found in leadership/management positions, registered nursing and advanced nursing specialist roles.
Transfer Opportunities
An Advanced Placement pathway to transition into the Associate Degree Nursing Program at RACC to become a registered nurse.
Graduates seeking a Bachelor of Science Degree in Nursing (BSN) are advised to complete the required general education courses and are directed toward specific baccalaureate schools of nursing for more information.
Clinical Affiliates
The College maintains affiliations with local hospitals and nursing homes so that students are able to benefit from real-world clinical experiences and observations including: Child development observation, Clinical lab practice, Maternity nursing, Medical nursing, Medication administration, Mental health nursing, Pediatric nursing, Surgical nursing.
Clinical Observation Affiliates
Admission Requirements
Be a graduate of an approved secondary school or hold a high school equivalency diploma (GED).
Complete and submit the RACC application for admission.
Follow the Selective Admissions Process as noted in the current Student Catalog for the Practical Nursing Program.
Prerequisite coursework must be completed before application to clinical program.
Please thoroughly review the information about ACT 53 of 2020 on the PA Professional Licensing website to determine your eligibility for the program.
Prior to application to their clinical program, students should be in the appropriate Health Sciences degree program.
Want To Learn More?
Contact an enrollment specialist at admissions@racc.edu, 610.607.6224 or 800.626.1665.
Stop by the Welcome Center in the Berks Hall lobby.
Get financial aid help at financialaid@racc.edu or 610.607.6225.
Provisional approval by the PA State Board of Nursing, located at P.O. Box 2649, Harrisburg, PA 17105-2649. Phone: 717.783.7142
Continuing accreditation by the Accreditation Commission for Education in Nursing, located at 3390 Peachtree Road NE, Suite 1400 Atlanta, GA 30326 (404) 975-5000. http://www.acenursing.org.
---
Program Outcomes
NCLEX-PN Pass Rate
2021
100%
2020
72.72%
2019
72.2%
Program Completion Rate
Year
% Graduated
2021
31.2%
2020
24.1%
2019
71%
---
Employment Trends and Salaries