Campus Map and Directions
Penn Street Bridge Traffic Rerouting
» Download and Print the Detour Map
The exit ramp for traffic driving on 422 W to Penn Street (towards the city) will be closed. The ramp is anticipated to reopen to traffic in October 2019.

Traffic entering the city across the Penn Street Bridge will be reduced to one lane. The eastbound traffic will not return to two lanes until project completion which is anticipated in December of 2019.

The Westbound traffic across the Penn Street Bridge will remain in two lanes until the last stages of the project.

Between October and December of 2019 the westbound bridge traffic will also be reduced to one lane.

Pedestrian traffic will stay at the current location on the south side of the structure and will remain in this configuration until August of 2018.
Detailed information on timeline and lane configurations can be found on the PennDOT's website.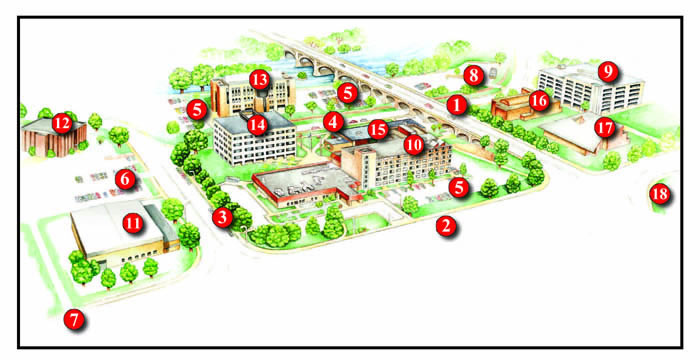 Printable RACC Campus Map -

PDF 166 KB
Reading Area Community College is comprised of seven buildings on a 20 acre campus. Parking is located on campus, within easy walking distance of all facilities.
Building Names and Locations Legend
1. Penn Street Bridge
10. Berks Hall
2. Second Street
11. Competition Tire
3. Franklin Street
12. Kratz Hall
4. Front Street
13. Yocum Library
5. Faculty & Staff Parking
14. Weitz Hall
6. Student Lot B
15. Gust Zogas Student Union Building
7. The 2

nd

St. Entrance to Lot B
16. Schmidt Training and Technology Center
8. Student Lot E
17. Miller Center for the Arts
9. Parking Garage
18. Gateway Center