Register Today for Classes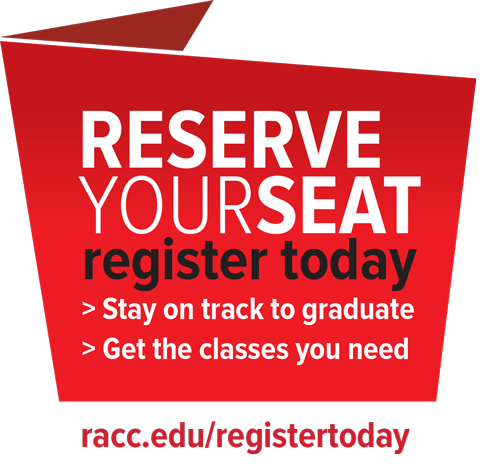 Register today!
Register today for classes at RACC to make sure you have a schedule that works for you.
Registration for spring and summer classes is now open. Many of our classes are offered both in person, on the main campus, our additional location in Sinking Spring, and online; giving you the choice of whichever you prefer. We offer several sessions, including eight week accelerated terms. Enrollment is on-going with classes starting in January, February and March.
Learn more about our additional location in Sinking Spring and what courses are being offered.
Dates and information for upcoming terms
Sessions lasting for 8, 10 and 15 weeks:
Weekend college is here!
New Students
Current Students
Three easy steps to register.
PLAN your courses through your Self Service / Student Planning account (see guides below).
REVIEW your plan with an advisor – It is strongly recommended that you speak with your faculty advisor or a professional advisor in the Advising Center (B209) to confirm that your selection will keep you on the path for on-time graduation.
REGISTER for classes.
NOTE: PLANNED courses will appear in yellow. REGISTERED courses appear in GREEN.
If you have problems accessing the site or if you encounter any technical difficulties, please contact the IT Help Desk at helpdesk@racc.edu or stop by Berks Hall 411.
If you have specific questions about what courses to take or require assistance with registration, please visit the Advising Center in Berks Hall 209
Guides for Self-Service and Student Planning
Student Instructional guides to review program requirements, plan courses and schedules and register for classes.
Are you enrolled full-time at another school and looking to stay on track by getting some general education classes out of the way? We can help you with that, too. Enroll at RACC as a guest student and transfer your credits to your main institution. 
That's it, you're all set!
---
If unsure of what courses you need, the following resources may help:
If you receive an error message that is preventing registration, please contact the Record's Office in B107 / 610-607-6243 or the Advising Center in B-209 / 610-607-6245.