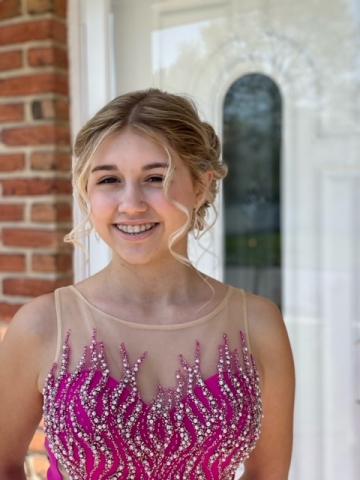 Kelly Hartman
Reading, PA, May 2, 2022– Kelly Hartman is a junior at Wilson High School with a passion for a career in the health professions. In fact, she could not wait until she graduated from high school to take the next steps toward achieving her dream of becoming a doctor of nursing in either psychology or pediatrics. Kelly will graduate from Reading Area Community College (RACC) this week with an associate degree in psychology.
"I love to learn, and I love being busy and constructive. The early college program at RACC was perfect for me," she says.
Kelly began taking dual enrollment and early admissions courses her sophomore year at Wilson High School. Dual enrollment is taking a college course in the high school; early admissions is taking a college course on a college campus or online. Both are excellent ways to earn college credit while still in high school. She attended high school class during the day, and then completed her college credits online during nights and weekends. Her college-level courses at Wilson High School included Spanish, Literature, Precalculus and Art.
Kelly credits her mother, Miranda, who works in health professions as a registered nurse, as her inspiration, and the motivational source in her life. "I can't thank my mom enough for keeping me inspired, organized, and focused on my work," she says.
Kelly is also quick to acknowledge the Reading Area Community College staff and faculty for helping her through her debt-free, accelerated college pathway. "I was intimidated by the thought of attending college as a high school sophomore. I can also be a procrastinator," she laughed, "but the people at RACC, in particular, Carol Bean-Ritter (a professor in the Psychology department), made me feel comfortable, gave me confidence, and also helped me overcome my procrastination habits."
While jointly attaining a college associate degree while still in high school would seem like an overwhelming workload, Kelly also found time for activities outside of academics. She is the president of the Medical Leaders of Tomorrow Club, serves on the prom committee, is a member of the Wilson High School Link Crew, and works at part time at both American Eagle and Plato's Closet.
"The dual enrollment program at RACC has been a great way for me to get a head start on my four year college degree, and also get me closer to a career in healthcare."
Taking dual enrollment, earning an associate degree, and transferring seamlessly through articulation is the new affordable pathway to a bachelor's degree, says RACC Assistant Director of Early College Programs, Kristen Marcinko.
To learn more about the early college program at RACC, contact Marcinko at kmarcinko@racc.edu or 610.372.4721 x5127.