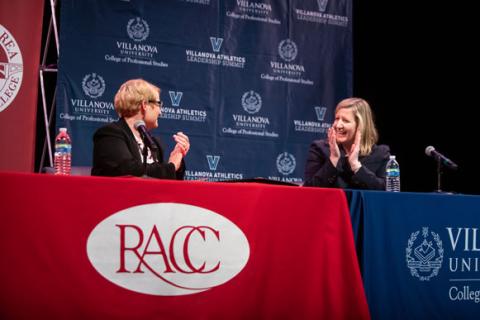 RACC and Villanova University sign transfer agreement
January 9. 2023 — Reading Area Community College (RACC) and Villanova University, College of Professional Studies (CPS) entered into a Guaranteed Admission and Transfer Agreement on Friday, January 6 in a signing ceremony in the Miller Center for the Arts on the RACC campus.
The agreement will facilitate the transfer of RACC students to all majors offered through CPS exclusively under the Bachelor of Interdisciplinary Studies.
"We are proudly celebrating this new agreement with Villanova University, which will open many new doors of opportunity for our graduates," says Dr. Susan Looney, RACC president. "This pathway is the result of great cooperation and collaboration between faculty and deans of our respective institutions and will serve well both the needs of our institutions and, more importantly, those of our students."
"This new transfer agreement between Reading Area Community College and Villanova University College of Professional Studies is an exciting step forward," says Christine Kelleher Palus, dean of the College of Professional Studies. "Every day in CPS we strive to allow greater access to a rigorous Villanova education, and we are thrilled to welcome RACC graduates to our community of learners. To our future students, with a solid educational foundation at RACC and a bachelor's degree from Villanova, where you've been is just the beginning."
Eligible students with an overall grade point average of 3.0 to 3.49 will receive a 20% tuition reduction, and those with a 3.5 to 4.0 will receive a 25% tuition reduction for each course taken at CPS.
"The new admissions agreement between Reading Area Community College and Villanova will expand access to our college's transformative education for our students. This partnership will provide a direct pathway to a Villanova degree for the talented graduates of RACC programs," says Kristen Marcinko, RACC director of academic partnerships.
In addition to tuition reduction, CPS may also offer Phi Theta Kappa (PTK) scholarships for qualified graduates admitted to CPS.
To learn more about the RACC and CPS and other transfer opportunities, visit the Transfer Services page.