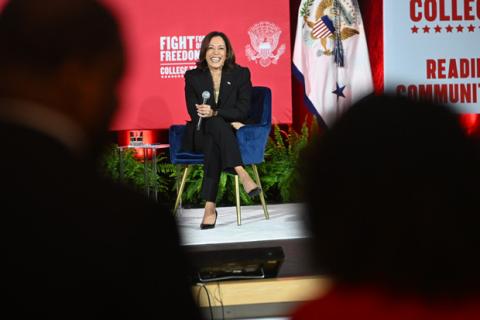 Vice President Kamala Harris at RACC
Reading, PA – On Tuesday, September 19, Vice President Kamala Harris marked National Voter Registration Day by participating in a moderated conversation with actress Annie Gonzalez at Reading Area Community College (RACC), a Hispanic-serving institution in Reading, PA. This campus event will be the third stop on the Vice President's month-long college tour.
Vice President Harris's "Fight for Our Freedoms" College Tour is a high-energy national swing to mobilize thousands of young people in the ongoing fight for fundamental freedoms and rights. She is set to visit around a dozen campuses including HBCUs, community colleges, apprenticeship programs, state schools, and additional Hispanic-serving institutions. At each stop, the Vice President will focus on key issues that disproportionately impact young people across America – from reproductive freedom and gun safety to climate action, voting rights, LGBTQ+ equality, mental health, and book bans.
 "It is truly an honor to have Vice President Harris visit our beautiful campus. I am very proud to have such an opportunity to showcase the great work that our faculty and staff do for our students and the Berks County community," says RACC President Dr. Susan Looney. 
  
The Vice President's college tour officially kicked off this week with stops at Hampton University and North Carolina A&T State University. It is a continuation of her dedicated work to energize, engage, and partner with young people throughout the country. She has already been to 13 college campuses this year after visiting 14 schools in 2022. Vice President Harris also regularly meets with young leaders wherever she goes – from climate leaders in Colorado to gun safety advocates in Virginia.