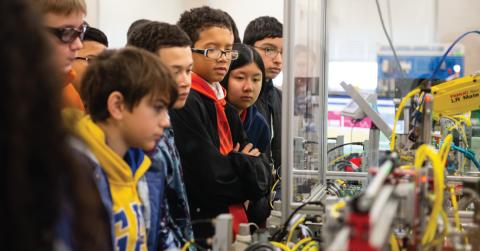 RACC Celebrates Third Annual STEM Day
Reading, PA – Reading Area Community College hosted over 130 Berks County middle school students, teachers and administrators for their third annual STEM Day on Friday, November 8th.
Students from Tulpehocken, Reading, Wilson, Kutztown, Brandywine, Oley Valley, Conrad Weiser, Antietam and Daniel Boone School Districts conducted hands-on experiments using techniques and procedures in the areas of geocaching, chemistry, robotics, physics, medical lab technology, respiratory therapy and even simulated crime scene investigations using forensics technology. The experiments were designed to help get students excited about how fun science can be as a career path and encourage them to make positive future life and career choices.
"We're focused on developing strategies and fun programming for young people that encourage a passion for STEM. This is our third annual STEM Day and it's a wonderful chance to show the students from Berks County school districts and the Berks community what is happening in STEM at RACC; and how our young people can prepare to take these areas to an exciting new level in the future," says RACC President Dr. Susan Looney.
After extensive renovations in the spring and summer of 2017, RACC's labs are dedicated to every segment of the STEM division, incorporating applied engineering and technology, physical and life sciences, and health sciences. The chemistry and physics labs were relocated into the Schmidt Training and Technology Center to better integrate both areas into the workforce development and applied engineering programs.
"In just three years, STEM Day has become a beloved RACC tradition for our K12 partners' middle school students and teachers. Our faculty and staff have as much fun as the kids, and I'm especially proud of RACC colleagues who share their talents and time on STEM Day. A truly remarkable day for STEM education in Berks County," says RACC Director of Academic Partnerships, Jodi Corbett. 
To learn more about the STEM programs at RACC please call 610.607.6224 or visit RACC STEM programs.