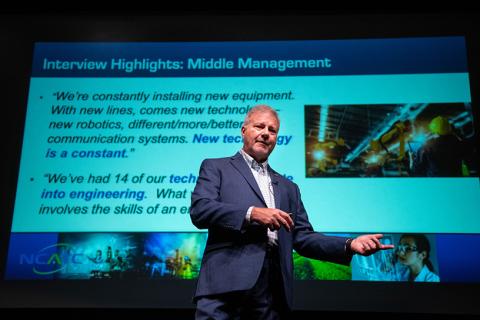 Technology, Talent and Cyber Security Featured at the SMART Automation Summit at Reading Area Community College
Reading, PA – On Thursday, October 3, 2019, the Schmidt Training and Technology Center on the Reading Area Community College campus hosted over 125 local and regional manufacturing leaders and vendors for a SMART Automation Summit. Working with the business strategy and consulting firm Nimble Leader, the summit featured keynote speakers Craig McAtee, executive director at the National Coalition of Advanced Technology Centers, Nimble Leader Managing Directors, Steve Van Valin, founder and CEO of Culturology and T. Brett Wilmotte, director of cyber security for Enterprise Ventures Corporation.
"Smart Manufacturing is the 4th Industrial Revolution that uses the internet of things to create interconnected manufacturing systems that communicate, analyze and use this information to drive intelligent decisions/ actions back to physical equipment and processes.  As an educational institution, our goal is to provide learning and resources for both employers and students to improve manufacturing technology and talent readiness as we transition into a SMART Automation era," says Bonnie Spayd the Reading Area Community College executive director of workforce & economic development.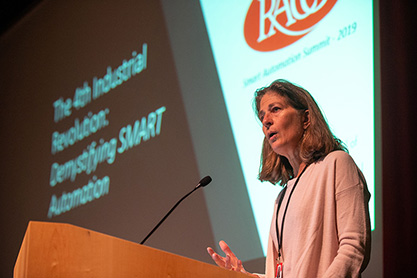 The event also highlighted state-of-the-art technology demonstrations on electronic sensors, cloud and robot integration, networking and cloud-based manufacturing.  
"The Automation Summit serves as a great platform to exchange ideas around the impact of technology in the manufacturing markets, and explore new technologies for current and future manufacturing," says Mike Salute, Reading Area Community College director of workforce development.
In additional to guest speakers and demonstrations, breakout workshops were held during the afternoon. Workshops ranged in topic from sales lead generation, optimization and conversion, to corporate branding and robotics automation.
For more information about programs at the Schmidt Training and Technology Center, call 610.372.4721 or visit sttc.racc.edu.