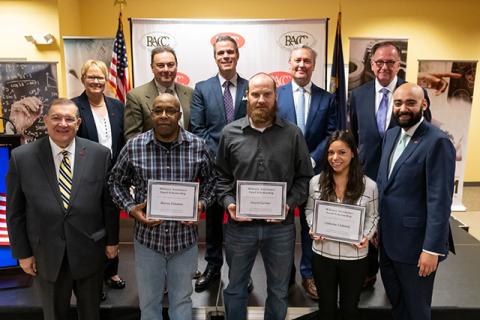 Reading Area Community College Students Receive Scholarships from Veterans Day Event Contributions
Wyomissing, Pa. (February 18, 2020) – Qualifying veterans, active duty reservists, or national guard members can now receive full academic scholarships to the Reading Area Community College for career or vocational training thanks to the generosity of Berks regional businesses who contributed to a new Military Assistance Fund. Up to $36,000 a year will be provided through an effort led by Customers Bank. The scholarships will be funded from donations collected at the annual veterans luncheon which Customers Bank has been the presenting sponsor of for the last six years, and last year featured General David Petraeus as a keynote speaker. Contributions will be managed by the Berks Community Foundation, with the scholarship program being administered by Reading Area Community College.
The scholarships provided through the Military Assistance Fund assist current or former members of the armed services, reserves or National Guard. While there is substantial scholarship assistance available to some of these service members, these benefits are limited by time, length and nature of service, among other factors. The purpose of this fund is to close any gaps in financial aid while providing Reading Area Community College with the maximum flexibility to meet the educational needs of military families. Scholarship awards will cover tuition and fees for full-time students and individuals enrolled less than full-time due to other work and family obligations. Interested applicants will need a DD Form 214 certifying an Honorable Discharge.
"These scholarships are made possible through the generosity of local businesses and organizations that sponsor the annual Veterans Day Event. The event raises funds to support organizations dedicated to serving the needs of Berks County veterans," said Richard Ehst, President and Chief Executive Officer of Customers Bank. "These scholarships are another way for us to thank those individuals who have or who are continuing to serve our country and help them achieve their educational goals. Like so many of our Veterans Day Event sponsors, Customers Bank has always placed a high value on education and we are immensely proud to help facilitate this additional support for our veterans."
Beginning in winter 2020, the scholarship fund will contribute up to $36,000 annually to create scholarships for veterans of the U.S. Army, Navy, Air Force, Marines and Coast Guard. Current and previous members of the U.S. Army National Guard, Army Reserve, Navy Reserve, Marine Corps Reserve, Air National Guard, Air Force Reserve or Coast Guard Reserve are also eligible to apply for the scholarships.
The scholarship fund was announced today and recognized at an event with speakers Dr. Susan Looney, RACC president; Richard Ehst, president and chief executive officer of Customers Bank; Joseph L. Hartz, president of UGI Energy Services, LLC; Eric Schippers, senior vice president, public affairs at Penn National Gaming, Inc. and Pat Shields, owner and chief executive officer of Fromuth Tennis.
"As a proud ambassador of RACC's mission of student success and the enrichment of our community, I am thankful for the generosity of all of the sponsors of the annual Veterans Day Event, and especially for Customers Bank in providing the essential financial support to help our Berks County veterans attain a college education," says Dr. Susan D. Looney, RACC president.
"Without the continued support from key sponsors at the annual Veterans Day Event, we would not be able to make these important scholarships available," added Ehst. "We are fortunate to have such wonderful organizations and corporate leadership in the region that share our commitment to supporting Berks County veterans. We are grateful for the continued support of Boscov's, East Penn, EnerSys, First Energy Foundation, Penn National Gaming Foundation, Penske, Reading Hospital, Shields Family, Ubiquity, UGI, UGI Energy Services and the many others that have contributed over the years."
To learn more about the available scholarships, please contact foundation@racc.edu or call 610-607-6239.
Reading Area Community College is an accredited, comprehensive, open-enrollment education institution that provides associate degree, certificate and diploma programs; career-focused training; transitional coursework; skills training for business and industry; personal enrichment programs and public service activities. Sponsored by Berks County, the college provides affordable access to meet identified community educational needs.