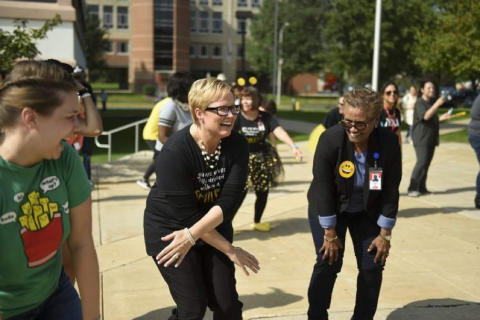 Dr Looney Smile Day
Written by: Reading Eagle/October 5, 2018/Reading, PA
Reading Area Community College students and staff boogied in the quad Thursday, part of the school's ongoing celebration of the upcoming inauguration of its new president, Dr. Susan D. Looney.
The college this week marked Smile Week, which featured events like creating a smile postcard to give to fellow students, staff members or family members; painting smiley rocks; and a scavenger hunt.
Thursday, there was a smile parade through campus with participants dressed in smiley costumes, followed by a flash mob. Students and staff also had an opportunity to decorate smile cupcakes.
Looney's inauguration will take place Monday at 2 p.m. in the Miller Center for the Arts.