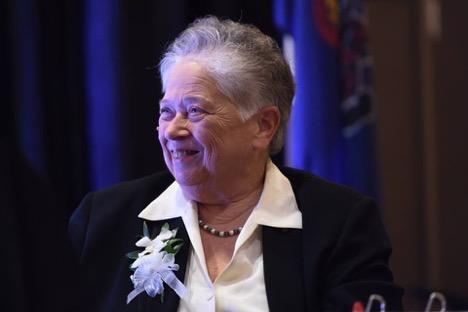 Dr. Anna D. Weitz
Written by David Mekeel/Reading, Pa
It's hard to succinctly sum up more than a decade.
But standing in the ballroom inside the DoubleTree by Hilton hotel in Reading on Friday night, Dr. Anna D. Weitz, outgoing Reading Area Community College president, gave it her best try.
"As I think back on my career, and especially my 11 years at RACC, the word that most often comes to mind to characterize my professional approach is stewardship," she said. "That may sound a bit burdensome, maybe old fashioned. But please believe me when I tell you it is neither. In fact, it is very helpful to have a guiding point of light when one is making complicated decisions at a dynamic and ever-changing institution."
The college celebrated its departing leader during a retirement reception aimed at thanking Weitz for the tireless work she has done.
Weitz said she always made it a priority to wisely use the financial investments made by students and their families, taxpayers and donors. And she added she always tried to make the volunteer board of trustees and the members of RACC's foundation board proud.
Weitz, who is retiring at the end of the month, said she feels community colleges like RACC hold a special place in communities, and getting a chance to play a part in them has brought her immense joy.
"Community colleges marry individuals' hopes with the opportunity and support to make dreams come true," she said. "It is as simple and wondrous as that. What a privilege it has been to be a community college educator, especially at RACC."
Weitz said it is was clear from the first time she stepped on campus at RACC that the school was dedicated to those ideals.
"What I quickly found here that was different was a sense of how much this college is beloved by its community, and I use the word beloved deliberately," she said. "I soon realized that RACC has an exceptional commitment to student success and to community partnerships that is baked into our institutional DNA."
While she might be leaving her post at RACC's helm, Weitz told the crowd, she will not be abandoning Berks County. She said she plans to continue to live locally and will stay involved in the community.