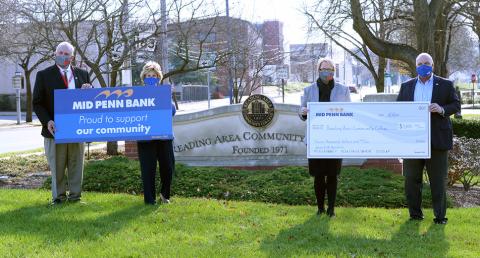 RACC Receives Generous Donation from First Priority Bank
Reading, PA – The Foundation for Reading Area Community College has received a generous $7,000 donation from First Priority Bank, a division of Mid Penn Bank. This contribution will support Reading Area Community College (RACC)'s Dual Enrollment/Pathway Programs. Under the RACC Dual Enrollment Program, current high school students can begin their post-secondary education and start earning college credits from multiple programs at the college. RACC has collaborated with seventeen area high schools to offer college credit for college-level courses students take at their high school. The courses taught at the high school must cover the same competencies as courses taught at RACC.
"With the average student debt around $30,000, we continue to offer solutions for our students to manage their college debt, save time, and better prepare them for the expectations of college-level course work. Even during these uncertain times, what is best for the students is at the center of everything we do," says RACC President Dr. Susan D. Looney.
Mid Penn Bancorp Inc., headquartered in Millersburg, Pennsylvania, has been serving the community since 1868. Mid Penn has 39 retail locations in the state of Pennsylvania and total assets of more than $2 billion. Its footprint includes Berks, Bucks, Chester, Cumberland, Dauphin, Fayette, Lancaster, Luzerne, Montgomery, Northumberland, Schuylkill and Westmoreland counties. The bank offers a comprehensive portfolio of products and services to meet the banking needs of the communities it serves. To learn more about Mid Penn Bank, visit www.midpennbank.com.
To learn more about the Dual Enrollment/Pathway Programs at RACC, call 610.607.5127. To learn more about giving opportunities with The Foundation for Reading Area Community College, call contact foundation@racc.edu or 610-607-6239.