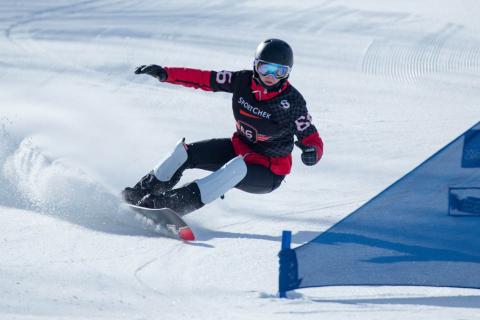 Kaiya Kizuka
Kaiya Kizuka, a Reading Area Community College student enrolled in the RACC/Bucknell engineering program has been named to the United States Junior World Championship Snowboard Team. Kaiya will be representing the United States in both the parallel slalom and parallel giant slalom events. This team will be led by Olympian Justin Reiter and Lynn Ott, a World Cup athlete and one of the founders of the United States Snowboard Race Team. The Junior World Snowboard Championships is a competition that will bring athletes from around the world to compete in racing and freestyle events. This year's competition will be held at Cardrona Alpine Resort in New Zealand from August 24th through September 8th.
During the 2017/2018 snowboard season Kaiya competed nationally in the NorAm "Race to the Cup" snowboard series. At the end of the season she had earned enough FIS points to be ranked among the top junior women open class athletes in the United States. Kaiya is one of three women representing the United States in New Zealand for the parallel slalom and parallel giant slalom events. Kaiya also competed in the Junior World Snowboard Championships last year in the Czech Republic and was the top American finisher in both events.
Justin Reiter states, "I'm really happy to ride with our country's top riders and to support their goals and efforts on the world stage".
Ski Roundtop Race Club coach and sponsor Jeff Carr states, "Her hard work and dedication to alpine snowboarding got her where she is today. Kaiya's success in this sport has only just begun."
Ski Roundtop Race Club coach Neil Sunday states, "As Kaiya prepares for her second Junior World Championships, I feel confident that she can compete on the international level with success. Her dedication and persistence had made her into one of the top snowboarders representing the United States. A lot of European snowboard federations use the Junior World Championship event as a future planning map of an athlete's potential, a good result in New Zealand for Kaiya would give her the confidence necessary to continue as a top ranked snowboard contender."
Kaiya has been snowboarding since the age of 5. Her first race experience was through the NASTAR race program. After a year of racing on those courses which were set for ski racing, she was ready to move to the next level. She then moved on to the USASA Mid-Atlantic Snowboard Series. At the age of 15 she began competing in the open class level at national and international FIS events. At these FIS races she competes against professional and Olympic snowboarders from around the world.
Kaiya graduated Magna Cum Laude from the STEM and Performing Arts Academies at Wilson High School. She received the Presidential Scholarship and is attending Reading Area Community College where she is enrolled in the RACC/Bucknell engineering program.
Kaiya is looking to do well at this year's Junior World Snowboard Championships. Her future goals include making the JWC team in 2019 and competing in the 2022 Winter Olympics in Beijing, China.
Her progress and updates can be followed at @snowsurfgirls on Instagram and Facebook.