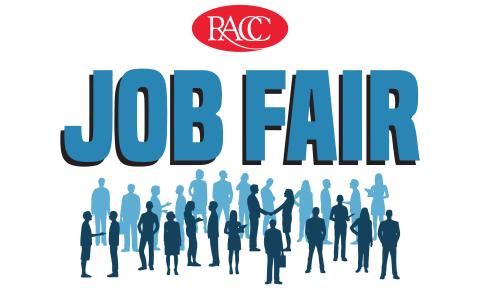 RACC Job Fair
The Career Services office at Reading Area Community College is hosting a Government and Non-profit Job Fair on November 13, 2018, from 12-3pm in the Student Union Building on the RACC campus. The event is open to all RACC students and graduates. Job seekers from the general public are also welcome to attend. "We are expecting more than 22 employers," says Jen Gittings-Dalton, career development specialist at RACC. "We have employers hiring in multiple majors and career areas so we encourage all types of job-seekers to attend."
Employers attending the fair include: Abraxas Academy, CareerLink Community Support Services, The US Census Bureau, Customs and Border Protection, Imperium Management Services, Office of Vocational Rehabilitation, Olivet Boys & Girls Club, PA National Guard, PA State Police, Pennsylvania Department of Transportation, St. Luke's University Health Network, Threshold, U.S. Coast Guard Auxiliary, United States Air Force, US Navy, US Army, and the YMCA of Reading and Berks County.
Job seekers are encouraged to dress appropriately for interviewing and bring multiple resume copies. RACC students may create or improve their resumes by visiting the RACC Career Center, and also get help with interviewing and job search skills and any career-related questions. The Career Center is located in room B-220, Berks Hall; students may drop by during office hours or make an appointment by calling 610.607.6246.
This is the third year that the Government and Non-profit Job Fair has been held at RACC, with positive reviews from past attendees and employers. It is our hope that even more employers from the region will take advantage of this opportunity to connect with students and alumni of RACC's many programs, and with many community job seekers as well.
"We are proud of our students and we are proud of our community. The people of Berks County are well-known for their hard work and loyalty, and RACC interns, students, and graduates add talent and skills to that foundation," says Gittings-Dalton. 
For more information or to register as an employer please contact Pat Edgar, Career Center Specialist at 610.607.6246, careercenter@racc.edu or visit the Career Services webpage.