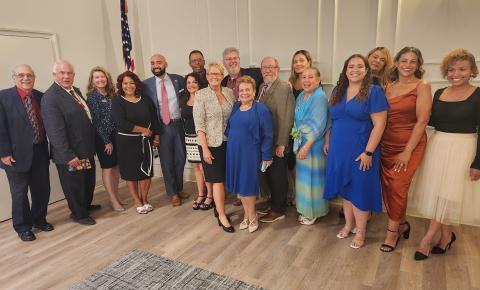 RACC Awarded Centro Hispano Daniel Torres' Amigo Award
June 29, 2023 — Reading Area Community College (RACC) was honored at a gala at Kraras Hall in Saints Constantine and Helen Greek Orthodox Church in Wyomissing on Thursday, June 29. Accepting the award on behalf of RACC was RACC President, Dr. Susan Looney.
Each year, Centro Hispano Daniel Torres recognizes an institution, organization or individual who makes a positive impact at the center and in Reading's Latino community with its Amigo Award. RACC was selected as the 2023 Amigo Award winner and honored at the Amigo Award Gala.
"I am deeply grateful for the recognition that this award represents, and I would like to thank everyone at RACC for their tireless dedication to our students. Every day, they provide a supportive and nurturing environment that enables our students to thrive. It is their commitment to helping students achieve their dreams that helps to transform the lives within our community," says Dr. Susan Looney.
 In addition to the award ceremony, the dinner featured keynote speaker, Mr. Richard C. Harwood, renowned speaker, author and president and founder of The Harwood Institute for Public Innovation, will be our keynote speaker for the evening.
Centro Hispano Daniel Torres' mission is to support the acculturation of the local Latino population through collaborative initiatives with core programs that include a senior center, social services referrals, college scholarships and guidance for high school students, peer-to-peer training for parents, and after-school mentoring.