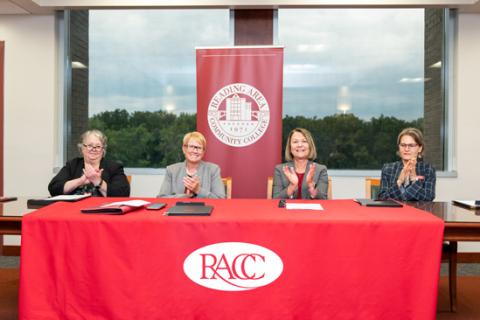 RACC and Muhlenberg Sign Transfer Agreement
Reading, PA – On Monday, September 19, Reading Area Community College (RACC) signed a guaranteed transfer agreement with Muhlenberg College in the River Room of the Yocum Library on the RACC campus.
RACC and the Muhlenberg College School of Continuing Studies entered into a program-to-program agreement for RACC students planning to transfer to Muhlenberg College School of Continuing Studies Accelerated Degree Programs. RACC graduates with an Associate in Arts Degree, Associate in Science Degree or Associate in Applied Science Degree in a major aligned with one of Muhlenberg College School of Continuing Studies Accelerated Degree Programs. A RACC student admitted with an earned associate's degree in one of the designated curriculums will be able to complete a bachelor's degree in a parallel program at the School of Continuing Studies within 22 months.
"We are celebrating today a new agreement with Muhlenberg College's, which will open many new doors of opportunity for our graduates. This pathway is the result of great cooperation and collaboration between faculty and deans of our respective institutions and will serve well both the needs of our institutions and, more importantly, those of our students," says Reading Area Community College President, Dr. Susan Looney.
In addition, students who are admitted under this agreement will be eligible to receive $1,500 per academic year. Current members of Phi Theta Kappa at RACC at their time of transfer will be eligible to receive an additional $500 per academic year.
"The new admissions agreement between Reading Area Community College and Muhlenberg College will expand access to our College's transformative education for Pennsylvania students. This partnership will provide a direct pathway to a Muhlenberg degree for the talented graduates of RACC programs," says Muhlenberg College President Kathleen Harring.
"The availability of student scholarships when transferring a RACC associate degree to Muhlenberg College's bachelor's degree program makes access to a continuing education easier and will reduce the financial burden for our qualified transferring students," says RACC Director of Academic Partnerships, Kristen M. Marcinko.
To learn more about the transfer agreement, or for more information about other transfer opportunities, contact Leora Chernesky at 610.372.4721 x5106, or visit Transfer Services.
About Reading Area Community College
Reading Area Community College is an accredited, comprehensive, open-enrollment education institution that provides associate degree, certificate, and diploma programs, career-focused training, transitional coursework, skills training for business and industry, personal enrichment programs, and public service activities. Sponsored by Berks County, the college provides affordable access to meet identified community educational needs.    
About Commonwealth University of Pennsylvania
Muhlenberg College aims to develop independent critical thinkers who are intellectually agile, characterized by a zest for reasoned and civil debate, committed to understanding the diversity of the human experience, able to express ideas with clarity and grace, committed to lifelong learning, equipped with ethical and civic values and prepared for lives of leadership and service.
The College is committed to providing an intellectually rigorous education within the context of an inclusive and diverse campus; we strongly believe that diversity is essential to learning and to our success as a pluralistic community. Our curriculum integrates the traditional liberal arts with selected preprofessional studies. Our faculty are passionate about teaching, value close relationships with students and are committed to the pedagogical and intellectual importance of research.