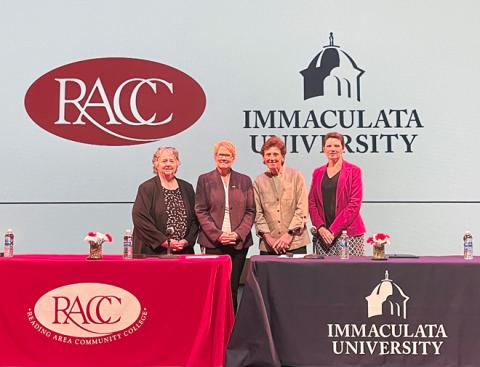 Immaculata University Signing
Reading, PA – On Tuesday, August 29, Reading Area Community College (RACC) signed a guaranteed transfer agreement with Immaculata University in the Miller Center for the Arts on the RACC campus.
RACC President Dr. Susan Looney and Immaculata University President Barbara Lettiere entered the colleges into a Dual Admissions Transfer Agreement to facilitate the transfer of RACC students to Immaculata's Baccalaureate Degree programs. This agreement applies to students who enter Immaculata as full-time or part-time undergraduate students. RACC students will be guaranteed admission with third year (junior) status at Immaculata. The agreement will apply to  RACC graduates with an Associate in Arts, Associate in Science, Associate in Applied Science, or Associate in General Studies degree. Immaculata will award academic scholarships annually to all RACC graduates admitted to the college, and all RACC students will also be provided with a Dual Admissions Grant of $1,500 which is renewable each year the student is enrolled as a full-time matriculated undergraduate student. The Phi Theta Kappa Scholarship will also be awarded to Phi Theta Kappa members.
"We are celebrating today a new agreement with Immaculata University, which will open many new doors of opportunity for our graduates. This pathway is the result of great cooperation and collaboration between faculty and deans of our respective institutions and will serve well both the needs of our institutions and, more importantly, those of our students," says Reading Area Community College President, Dr. Susan Looney.
"Immaculata University is proud to partner with RACC in the development of the Dual Admissions Agreement. The agreement clearly and seamlessly lays out the pathways to a bachelor's degree and subsequent careers. This aligns exactly with what modern students are looking for and actively pursuing," says Immaculata Vice President for Academic Affairs and Provost, Dr. Angela Tekely.
"The availability of student scholarships when transferring a RACC associate degree to Immaculata's Baccalaureate Degree programs makes access to a continuing education easier and will reduce the financial burden for our qualified transferring students," says RACC Director of Academic Partnerships, Kristen M. Marcinko.
To learn more about the transfer agreement, or for more information about other transfer opportunities, contact Dana Stout at 610.372.4721 x5106, or visit Transfer Services.
About Reading Area Community College
Reading Area Community College is an accredited, comprehensive, open-enrollment education institution that provides associate degree, certificate, and diploma programs, career-focused training, transitional coursework, skills training for business and industry, personal enrichment programs, and public service activities. Sponsored by Berks County, the college provides affordable access to meet identified community educational needs.    
About Immaculata University
Immaculata University is a comprehensive, co-ed institution of higher learning that has emphasized academic success, student outcomes, faith-based values and personal growth for more than 100 years. Immaculata University values each student and empowers them to chart their own course.
Offering more than 75 in-demand undergraduate, graduate and certificate programs, Immaculata University provides attainable education, personal support and meaningful career pathways to tomorrow's leaders who are focused on intellectual, personal, professional and spiritual growth. Driven by the Catholic Intellectual tradition and the heritage of the Sisters, Servants of the Immaculate Heart of Mary, Immaculata provides affordable, career-focused education that is accessible to students, regardless of income, location, test scores or academic achievement.