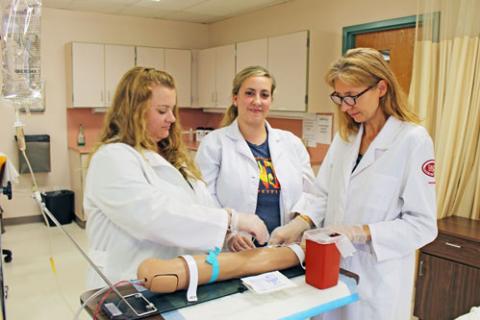 NEAG Foundation Awards $300,000 to RACC
Reading, PA, Monday, May 10, 2021 – Reading Area Community College (RACC) has been awarded $300,000 from the NEAG Foundation to support nursing student scholarships.
Over the next two years, the award will be used to fund scholarships to students enrolled in the nursing (RN) and practical nursing (LPN) programs in the most impactful way possible.
"Ray and Carole Neag are among the most significant leaders in the history of Reading Area Community College. This remarkable gift from the Neag Foundation continues that incredible legacy," says Anthony DeMarco, executive director of the Foundation for RACC. "Carole Neag has always been a passionate advocate for nurses, having personally served for years as an emergency and maternity nurse during her career. This grant will allow dozens of those students who aspire to a career in nursing to achieve their academic dreams."
Susan Looney, president of Reading Area Community College, states, "This award will immediately benefit our nursing students who are highly prepared and ready to enter the regional healthcare workforce."
Nursing continues to be the largest profession in healthcare, with RACC educating students with clinical training at regional affiliates such as Reading Hospital Systems, Penn State Heath St. Joseph, Berks Heim Nursing and Rehabilitation, Laurel Center Genesis HealthCare and Phoebe Berks Healthcare Center.
The NEAG Foundation supports education, healthcare, and the arts through Ray and Carol Neag's visionary philanthropy. Reading Among their many educational and charitable donations, they are well-known in Berks County for their contributions to the Caron in South Heidelberg Township, the Neag Planetarium in Reading, and the Penn State Health St. Joseph Medical Center.
Reading Area Community College is an accredited, comprehensive, open-enrollment education institution that provides associate degree and certificate programs with ten programs offered fully online; workforce and career-focused training; transitional coursework; personal enrichment programs and public service activities. Sponsored by Berks County, the College provides affordable access to meet identified community educational needs.