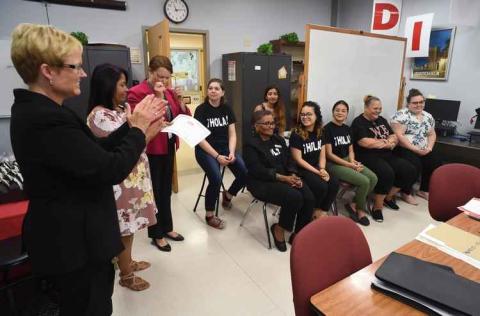 Muhlenberg School District Learns Spanish
Written by Karen Shuey/ReadingEagle
Muhlenberg Township, PA — Muhlenberg High School Principal Michael Mish has experienced some uncomfortable silences.
Those silences usually come when it has been painfully clear that the parents staring at him have no clue what he has been attempting to tell them. He offers a smile and then they wait. They wait for someone who can help them move past the barricade that separates those who only speak English from those who only speak Spanish.
"We know how important it is for parents to be engaged in the education of their children, so when you can't communicate with them about that it creates barriers," he said. "Those uncomfortable silences can be embarrassing because you know they want to be there to help, but you have nothing you can say to them."
And with Latinos now making up more than half of the Muhlenberg School District student population, those silences have become much more frequent over the last several years. 
So when Mish heard the district was partnering with Reading Area Community College to offer a Spanish program this summer to school administrators and their support staff he said he embraced the opportunity.
"I may never become fluent in Spanish but understanding more about the language and the culture will help make those interactions more comfortable for me and for the parents," he said. "It's a lot easier to communicate with someone when you have an appreciation for where they come from."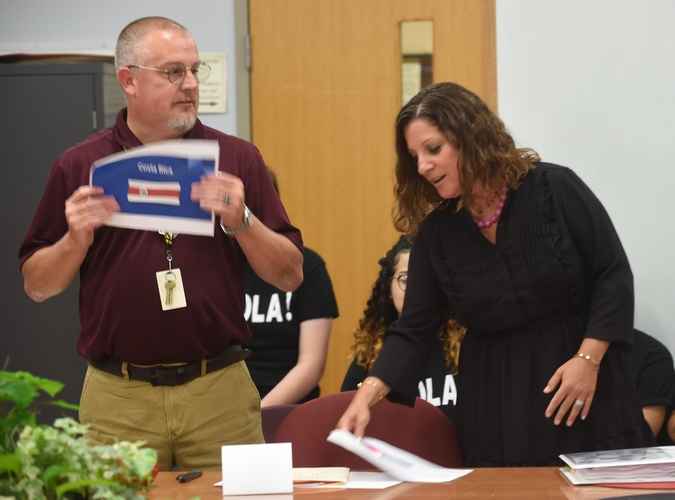 Mish was not alone in his enthusiasm for learning.
He was one of about 30 faculty members across the district who took the course. They spent the last several weeks learning and speaking basic words and phrases, researching Spanish-speaking countries, tasting the local cuisine from those countries and listening to the experiences of those who lived in those countries.
Lori Morris, an assistant high school principal, said she's hoping those bilingual skills and cultural experiences will come in handy when it comes to building relationships with those students and parents who can sometimes feel isolated because of the language barrier.
"We have to walk the walk and talk the talk," she said. "Our students and parents are going to appreciate the fact that we are making an effort. I think the effort to better understand them is what really matters to them."