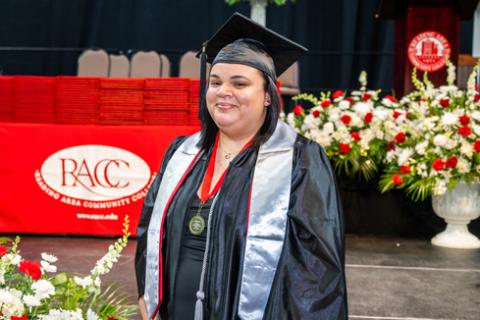 2022 RACC graduate Leisha Gonzalez
Congratulations to 2022 RACC graduate Leisha Gonzalez!
Leisha is the mother of a five-year-old and was a proud work study of the RACC campus. Her parents left formal schooling in middle school, prompting Leisha to be vigilant in pursuing a higher education. At RACC, she found a family, found talented, committed faculty and staff who encouraged her in her studies and also in her personal life. She majored in secondary education as a result of her experiences during the height of the COVID19 pandemic-when she fell in love with tutoring her younger siblings while in quarantine.
"My journey at RACC has been amazing with meeting so many wonderful people and being able to experience so many different things on and off campus. My career goal is to eventually work in the Reading School District as a teacher assistant. I hope to teach students hearts and minds as both a confidant and as an educator," says Leisha of her career goals after RACC.