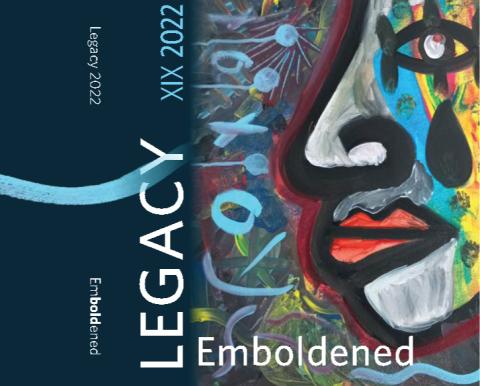 Legacy 2022
The Columbia Scholastic Press Association (CSPA) offers two annual competitions to "honor excellence in student publishing: Crown Awards for overall excellence and Gold Circle Awards for individual student recognition."
Legacy 2022 was initially recognized as a Crown Finalist and later honored with a Silver Crown as a print literary magazine at the 2023 CSPA College Media Convention. According to the CSPA, Crown Awards are "the highest level of recognition given by the CSPA" to a student publication and one of the highest honors in college media. 
Below is the complete list of award winners:
Grub Street Literary & Arts Magazine, Towson University, Towson, MA
Lighted Corners, Mount St. Mary's University, Emmitsburg, MA
Port City Review, Savannah College of Art & Design, Savannah, GA
The Tower, University of Minnesota, Minneapolis, MN
Legacy, Reading Area Community College, Reading, PA
Allium, A Journal of Poetry & Prose, Columbia College Chicago, Chicago, IL
Parnassus, Northern Essex Community College, Haverhill, MA
Windhover, North Carolina State University, Raleigh, NC
We are the only college in the state of Pennsylvania to receive this prestigious distinction, which is a testament to the great work of RACC students and the staff of the journal. Congratulations to the contributors, the student editors who helped produce the 2022 edition, the Editor-in-Chief and Layout/Design Editor, Dylan Sokolovich, and the faculty advisor, Dr. Bahar Diken.
The CSPA also awarded Legacy's 2022 issue four national Gold Circle Awards:
First Place – Experimental Fiction
Shianne Ayala-Lind, "Pretty Girl"
First Place – Cover Design for Literary or Literary Art Magazine
Miguel Santiago and Dylan Sokolovich
Certificate of Merit – Table of Contents Page
Dylan Sokolovich
First Place – Portfolio Illustration
Mia Davis
The complete list of individual awards can be found here.
Legacy 2022 contributors also took top awards from The Community College Humanities Association (CCHA). The CCHA's annual literary magazine competition highlights student work from all over the nation. Honoring the best in the Eastern Division, the CCHA named the following contributors as winners of its prestigious literary magazine competition.
First Place – Best Artwork
Mia Davis, "Wanderer"
First Place – Best Song
Rachel Dodson, "Alice"
Third Place – Creative Nonfiction
Rachel Dodson, "A Conversation with My Dad"
Third Place – Short Story
Jack Weaver, "The Silence of the Bugle"
Congratulations to the CCHA winners for their exceptional work.
Legacy 2022 and all the past editions can be seen here.