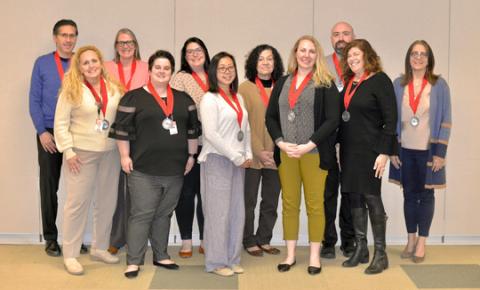 League Excellence Award Winners at RACC
The League for Innovation in the Community College is an international organization with a mission to cultivate innovation in the community college environment.
The League's Innovation of the Year Awards were devised as a way to recognize significant innovations at board and alliance member colleges. These innovations reflect significant achievements and the continuing renewal of the spirit of innovation and experimentation upon which the League was founded.
The award honors faculty, staff, and administrators who have created and implemented innovative programs, practices, partnerships, policies, and activities that improve the institution's ability to serve students and the community. This year, the winners from Reading Area Community College are:
Carol Bean-Ritter, professor, social sciences/human services
Joey Flamm Costello, instructor, communications, arts and humanities
Linda Cuesta, information center/events manager
Craig Fenn, professor, STEM
Sarah Hess, manager, Foundation for RACC
Margie Kerbel, professor, foundational studies
Jane Mahoney, enrollment services coordinator/communications specialist 
Anh "Emmie" Nguyen, associate professor, business division 
David Pennypacker, library technology and access specialist
Megan Schappell, house manager and box office coordinator, Miller Center for the Arts
Sandra Strause, executive administrative assistant to the president 
David Sweeley, dean of assessment, research and planning
Judy Vecchio, manager, training and workforce development