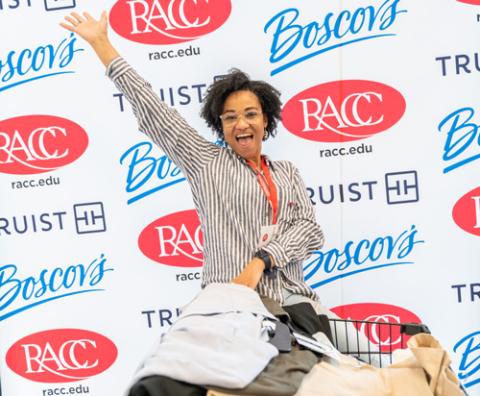 RACC Graduates Participate in a "Career Ready" Event
Reading, PA – RACC students, who will graduate on May 5th, participated in the second annual "Career Ready" event at the Boscov's store in Exeter on Tuesday, April 25th. This event was built upon the unique partnership of Reading Area Community College, Truist Bank and Boscov's Department stores, to set graduating students on the right path for success. Each student participated in financial literacy sessions facilitated by the experts at Truist, as well as met with the Director of Career Services at RACC for job search preparation.  Buyers from Boscov's were on hand for a special presentation on color coordination, accessorizing and proper attire demonstrations for interviews. Upon completion of the various sessions, each student received a $250 Boscov's shopping spree to purchase new career attire.
Last year's inaugural "Career Ready" event was a rousing success with exuberant students moving through the Boscov's store to select new clothing and outfits that they would never have thought possible. "Many of our students have never been able to purchase a new suit or put together a completely new outfit", RACC President Susan Looney explained. "This opportunity to shop with the assistance of personal shoppers is a dream come true for our graduates".
Providing professional clothing to RACC students for their job interviews would assist them in presenting a more professional appearance and make a good first impression.  Looking and feeling confident helps students to focus on being their typical best and be in a better position to communicate their skills and qualifications.
"Truist is proud to partner with Reading Area Community College and Boscov's in helping their students prepare for the next step in life. Our company's purpose is to 'Inspire and build better lives and communities' and this event certainly gave us the opportunity to help fulfill that purpose here in Berks County" said Truist Market President David Roland and Senior Vice President Schnearia Ashley. 
"We're delighted to partner with Reading Area Community College and help launch the careers of so many outstanding students.  We thank Truist for the investment they have made in the graduates and in our community. We are pleased and excited to help outfit these hard-working students as they enter the workforce," says CEO of Boscov's Department Stores, Jim Boscov.
"This is a wonderful collaboration between three leading Berks County organizations. Our RACC graduates have the training to be successful in the workplace, and thanks to this event, they now have the professional attire to complement their skills along with the important understanding of budgeting their own finances," said Tony DeMarco.
Reading Area Community College (RACC) believes in the educational access of each Berks County citizen and the economic and cultural development of the community it serves.  It is committed to providing diversified educational opportunities for individuals to develop their maximum potential and realize their self-worth and dignity, while serving as the conduit between high school graduation, degree-seeking programs and / or career training, and a family sustaining career.