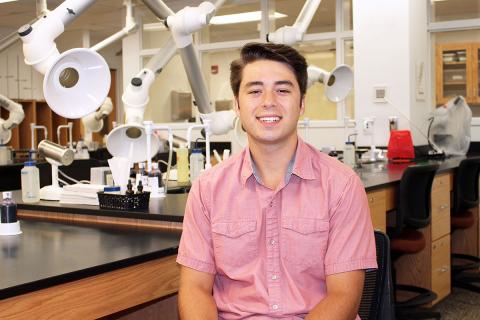 Luke Degenhart
Luke Degenhart, a 2018 Daniel Boone High School graduate, already earned his Associate of Science degree from RACC, and is on his way to Alvernia University to complete a Bachelor of Science in Chemistry with a minor in environment. Luke attended RACC on the Presidential Scholarship, a full-tuition scholarship for four semesters. He will attend Alvernia University with a $17,000 award in spring 2020.
Luke began taking dual enrollment courses in his junior year at Daniel Boone High School. These college-level courses are taught by approved high school faculty during the regular school day. He earned 14 credits at his high school and took online courses with RACC during his summers. He earned 26 college credits before graduating from high school.
Because of his Presidential Scholarship Award and Alvernia University's generous transfer policy, Luke will take another four courses, post-associate degree, at RACC and one at Alvernia University this fall - all courses counting toward his bachelor's. Already considered a junior in college, Luke has incurred very little debt by taking advantage of dual enrollment and dual admissions with RACC's strong transfer partners. 
Much of Luke's strategy for earning his degrees has been to "get his foot in the door" early, easing the transition to taking college-level courses. He says, "Dual enrollment helped me get a step ahead of my classmate and prepared me to be a chem major."
He also credits RACC's supportive staff in helping him navigate his debt-free, accelerated college pathway. Jane Dietrich, senior advisor/transfer specialist worked with RACC's good partner, Brett Krotee, undergraduate transfer coordinator, to ensure all his courses fit his program. When Luke had some life concerns affecting his academic work, he says, "Dan Glass, [senior advisor], really helped me out when I needed some help with finishing my spring classes." 
As he reflects on his college journey of dual enrollment into earning an associate degree with RACC, Luke says, "I struggled at first with the dual enrollment courses, but by the time I got to RACC, I never got a B as a grade again." 
"Dual enrollment started at Daniel Boone my sophomore year, my Dad found out about it and signed me up for courses my junior year, Trigonometry, Chemistry I, and Chemistry II." 
Now a chemistry major, Luke will tackle organic chemistry this fall. He's academically ready, he's ahead of his class, and he has relied on RACC to help him figure out how to earn a bachelor's without taking on massive student debt.