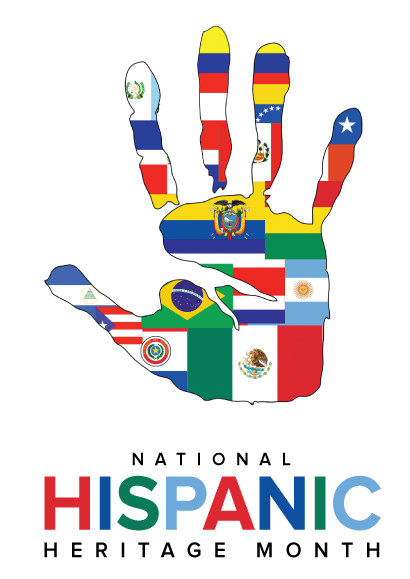 RACC Celebrating National Hispanic Heritage Month and Hispanic Serving Institution (HSI) Week
Hispanic Heritage Month takes place September 15 to October 15 every year as a time to recognize and celebrate the many contributions, diverse cultures, and extensive histories of the American Latino community. Beginning in 1968, Hispanic Heritage Month was originally observed as "Hispanic Heritage Week" under President Lyndon Johnson, but it was later extended to a month during President Ronald Reagan's term in 1988.
Since then, the month has been celebrated nationwide through festivals, art shows, conferences, community gatherings, and much more. The month also celebrates the independence days of several Latin American countries, including: Costa Rica, El Salvador, Guatemala, Honduras, and Nicaragua on September 15th, Mexico on September 16th, and Chile on September 18th. They also include holidays that recognize Hispanic contributions such as Virgin Islands-Puerto Rico Friendship Day that is celebrated in the U.S. Virgin Islands.
On September 14, 2021, President Biden issued a presidential proclamation on National Hispanic Heritage Month:
"During National Hispanic Heritage Month, we recognize that Hispanic heritage is American heritage. We see it in every aspect of our national life: on our television and movie screens, in the music that moves our feet, and in the foods we enjoy. We benefit from the many contributions of Hispanic scientists working in labs across the country to help us fight COVID-19 and the doctors and the nurses on the front lines caring for people's health. Our Nation is represented by Hispanic diplomats who share our values in countries all over the world and strengthened by military members and their families who serve and sacrifice for the United States. Our communities are represented by Hispanic elected officials, and our children are taught by Hispanic teachers. Our future will be shaped by Hispanic engineers who are working to develop new technology that will help us grasp our clean energy future and by the skilled union workers who are going to build it."
Latino educators, scientists, artists, and other professionals help make our communities more resilient & equitable. In a video to celebrate Hispanic Heritage Month, Secretary Cardona emphasizes that Latino voices, dreams & successes matter now more than ever.
Hispanic-Serving Institutions Week
The purpose of HSIs Week is to recognize 569 HSIs throughout the nation for their work and critical role in educating and empowering Hispanics/Latina/o/x. This year HSI Week is September 12-16, 2022, RACC will participate by hosting several events.
Hispanic Heritage Month and HSI Week Activities
Hispanic Serving Institutions Week Contest
September 12 - 18 online in the MyRACC portal > Library Services
 
Hispanic Heritage Month Kickoff
Thursday, September 15 | 11:00 AM - 1:00 PM | SUB/Quad
Hispanic music, snacks and giveaways.
 
Hispanic Heritage Trivia Game
Thursday, September 15 | 12:00 PM - 1:30 PM | SUB/Virtual
Hispanic Heritage Kahoot; snacks and prizes provided. Students can join in person or online.
 
Latino Book Club for Students
Thursday, September 15 | 12:00 PM - 1:00 PM | Quad
We invite all students to participate in a Book Club to celebrate Hispanic Heritage Month and recognize Hispanic Serving Institution Week. Pick up a free copy of one of the following books:
The House on Mango Street by Sandra Cisneros
When I Was Puerto Rican: A Memoir by Esmeralda Santiago
 
Free Movie Screening: Encanto
Thursday, September 29 | 9:00 AM (Spanish with English subtitles), 12:00 PM and 2:00 PM (English with Spanish subtitles) | Miller Center for the Arts
Walt Disney Animation Studios' "Encanto" tells the tale of an extraordinary family, the Madrigals, who live hidden in the mountains of Colombia, in a magical house, in a vibrant town, in a wondrous, charmed place called an Encanto. The magic of the Encanto has blessed every child in the family with a unique gift from super strength to the power to heal—every child except one, Mirabel. But when she discovers that the magic surrounding the Encanto is in danger, Mirabel decides that she, the only ordinary Madrigal, might just be her exceptional family's last hope.
 
Yocum Library Free Film Screening: A Journey of the Butterflies
Thursday, October 6 | 12:00 PM | ZOOM
This documentary shows the migration of the Monarch Butterfly and how important it is to Mexican culture.
 
Spoken Word Artist
Wednesday, October 19 | 11:00 AM - 1 PM | SUB
M.R. "Chibbi" Orduña is a Mexican-born, Texas-rasied poet, actor, editor, publisher, community organizer, and spoken word artist. Having been performing poetry since 2006, he is the founder of Laredo BorderSlam, a founding member of Write About Now, Editor in Chief of The Mixtape Lit Mag, and the Director and co-host of the Words and Shit video podcast. He also works as the Director of Virtual Programming for Write About Now and the Director of Media Production for Write Art Out. He has 2 books of poetry; his latest OTRO/PATRIA, a journey through the intersections of identity, was released in the summer of 2019. He was also the co-editor of the anthology Contra: Texas Poets Speak Out (Flowersong Press, 2020), a collection of almost 70 poems responding to the political and social climate of the Trump administration. His work primarily deals with the exploration of identity and culture, his experiences as both Queer and Latino, and fighting for the validity of existence. He has been featured in the Houston LGBTQIA magazine OutSmart, the 2017 Anthology Best Emerging Poets in Texas, the 2020 Latino Book Review Magazine, The Texas Review, The Acentos Review, Wax Wing, Defunkt, Voices de la Luna, The Journal of Latina Critical Feminism, Cosmonaut Avenue, Wax Nine, Honey Lit, Homology Lit, We Are Mitu, George Takei, SlamFind, Poetry Slam Inc, Button Poetry, and Write About Now. He has traveled the country performing his spoken word set,  is a two-time San Antonio Poetry Grand Slam Champion, and coached and performed with the 2017 PuroSlam team, winning 3rd place at the National Poetry Slam Group Piece Competition. On stage and page, he is an unforgettable experience.
 
Hispanic Heritage Painting and Lunch
Wednesday, October 19 | 11:00 AM - 1 PM | SUB
Celebrate Hispanic Heritage Month in a unique way by painting such icons as Cesar Chavez, Rita Moreno, Sonia Sotomayor, and others. Painting-by-number causes us to slow down and engage in a creative activity that contributes to a sense of calm. When you're focusing on your steady hand and paint application, your mind can't swirl with the busyness of the rest of life. Pick up a paint brush and let your worries melt away. Everyone knows how to paint because we've been doing it since kindergarten! Paint-by-number is an easy and fun way to unleash your inner artist without the pressure of having to start with a blank canvas. The great thing about paint-by-number is that you get to be creative without having to make any decisions. The color palette is all laid out for you. All you have to do is concentrate on your brush strokes and your steady hand. Lunch is being catered by Old San Juan.
 
Family History in Latin America Workshop
Wednesday, October 26 | 12:00 PM - 1:00 PM | ZOOM
Librarian Brenna Corbit presents a workshop on researching your family's history in Latin America.