A Look at Careers with Reading Area Community College
RACC is excited to offer career ready experiences in Health Professions, Human Services and Education, Business, and STEM for our K12 partners. On this page, students will be able to navigate pathways by viewing videos of business and industry leaders in our community, as well as viewing RACC faculty instructional videos. Students have access to career pathway guides, career resources, and workforce statistics. Take a closer look at RACC's academic programs including transfer degree programs, career degree programs, college credit certificate programs and non-credit career training programs. Let's start with a virtual tour of RACC's campus. From there, choose your path!
---
Career Resources
Thomas Crassas PT, DPT, OCS, CSCS, CEAS, Multi-Site Manager, NovaCare Rehabilitation – Interviewing Tips
Amy Ambrose, Southeastern PA Regional Recruiter, Manpower
Additional Resources
Career Service Center
Through a variety of programs, resources, and tools, the Career Service Center assists students with ongoing self-assessment and skill and knowledge building, and provides experiential opportunities and access to employers. Find out more here.
Financial Aid
Many students begin their college experience not knowing how much they can afford. The Financial Aid Office staff can help students find options to meet their educational costs. Find out more here.
School Educators
Educators, are you looking for additional resources to engage your students? Solve-It Berks and Solve-It Berks Kids is a collaborative initiative between SRI at Albright and Career Ready Berks that was created to inspire and engage both you and your students. The virtual and interactive platform provides students with an avenue to network and innovate with industry professionals of all Career Pathways.
Thank you to our Partners!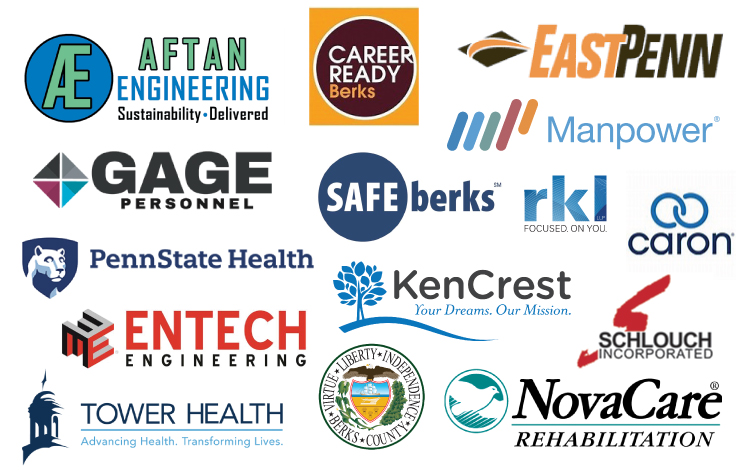 Contact Us!
Questions? Contact Kristen M. Marcinko, Assistant Director of Community and Academic Partnerships about theses career programs, as well as information on early college programs for high school students, including dual enrollment, early admissions, technical academy and teacher academy.